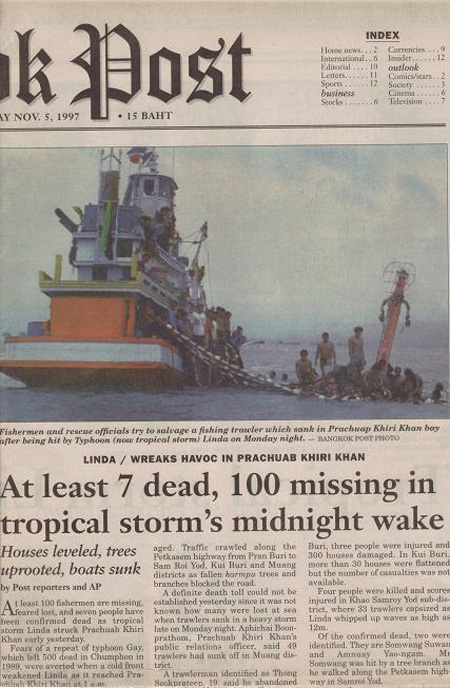 I'll tell you about my experience of using Chakra 6 to reduce natural disaster concerning the tropical Linda stom that pass through Thailand on Nov. 3, 1997 which severely destroyed part of Vietnam. It is far more worst than the "Gay"stom that used to destroy Thailand in the past. The statistics reports that there were 230 people died and 4,000 people couldn't be found and 1,000 ships were wrecked from the tornado Linda. There were 700 Thai workers for the Unocal oil company that had to move out immediately especially people living in the south of Thailand. It was around 18.00 when I saw this news on TV. I recently graduated from Level 5.2 and remembered that the Master said it is possible to help lessen the destruction of natural disaster. I didn't hesitated even a bit. I didn't have the pyramid yet then, but I fully confident and thought of the Master. I thought of Chakra 6 and 7 for 30 second and stared at the Gulf of Thailand
for 5 minutes. I thought to myself for the Linda stom to float higher than the atmosphere or as high as possible. It did fly over the Gulf of Thailand and fall into the Andaman Sea. In addition, it killed the fire in the Sumatra Island, Indonesia.

I was anxious to hear the news in the morning. I was so happy that news reported that the stom was not as strong as before. Some news reported that it was 240 km per hour and some 120 km per hour was reduced to 45 km per hour. (I'm not really sure how they measure it, I guess by the satellite.) All I know it reduced its speed. However, instead of entering around 18.00, it entered around 23.00. It was like 5 hours difference. I guess it waste a lot of time lifting itself up as high as possible. Also, instead of it entering in the province of "Surat" or "Chumporn", it entered a bit north in the province "Prajuab". I happen to own an 11 acres of farm there. It was like a mercy from God, nothing happened to my place. While the destruction occurred to all the place surrounding it. I didn't see it with my own 2 eyes though, but I called in and ask people around that area. Unfortunately, the Linda tornado became stronger again after passing through Thailand. In the province, Prajuab, only floods and 50 ship wrecks were reported. I guess that we are very lucky. About natural disaster, the Master have told us once in the seminar of Level 6 that all students could help lessen disaster caused by nature. I guess there were a lot of students, including myself, from Level 5.2 to 6 help lessen this destruction.
I believe so much that everyone who studied this universal force is very fortunate. It was never a waste of time. Just have faith, genuine determination and practice. Your psychic energy doesn't have to be strong, and don't pretend that you have strong psychic energy, that'll make it worst. Just have a good heart and that will produce pure energy. That energy will surround us, no matter how near or far we need it, we will surely be able to help others.
At the present, I'm very much interested in agriculture and natural disaster. However, I never left healing people. I started to cure in groups, rather than individual, and believe, it works! Actually, it's the same principle and your father's analysis and as you understood. It's that we have a pure motive and wanting very much to cure them. I used Chakra 6 and 7 for 30 second. After that, I used Chakra 6 to 6 and several spot behind the patient's head for 30 second and that's it, it's done! However, the most magnificent thing.

Choosak.Y
https://www.arokauecenter.com/wp-content/uploads/2019/10/พลังจักรวาล_11.jpg
1001
1500
admin
http://www.arokauecenter.com/wp-content/uploads/2019/10/logo_horizonal-1-300x48.jpg
admin
2019-10-12 17:16:35
2020-11-24 12:42:16
Storm